Lesatec was established in 1996 in order to work in Contamination Control Plants and Equipments sector.
Lesatec provides the following services:
Clean Rooms design and construction
HVAC systems for Clean Environments design and construction
Devices for Contamination Control design and construction
Isolators design and construction
Clean Environments Validation
Work Direction
Turnkey plants building
Research in fields like particles, air and temperature distribution
PRODUCTS
Lesatec developed a large set of products and accessories for Clean Rooms and for systems dedicated to contamination control.
ISOLATOR FOR ACTIVE PHARMACEUTICAL NGREDIENTS (API) HANDLING
---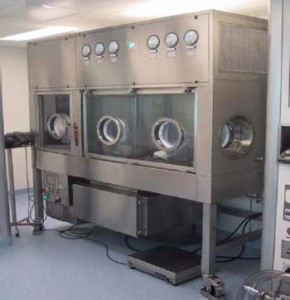 Isolator for Active Pharmaceutical ingredients is an equipment dedicated either to the handling of toxic / harmful pharmaceutical powders or to the handling of sterile products.
It is composed of two separated environments, one dedicated to the proper handling, the other to the inlet / outlet of products. Each environment is provided with a vertical – unidirectional air flow ventilation device ISO 5 class (complying ISO 14644).
The accurate internal aerodynamics make this device suitable for precision weighing operations, eliminating the problem of air speed influence on pans of precision balance.
Work desks, removable, are made with AISI 304 or AISI 316 pipes in order to make cleaning operations easy and effective.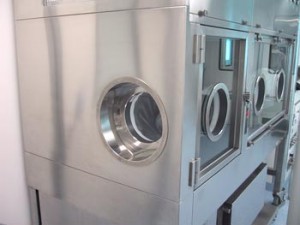 Under work desks there is a collection tank for powders or for washing / sanitizing solutions.
Unit design allows to guarantee a self-safe functioning in both conditions of works (positive – negative pressures).
Moreover unit external surfaces cleaning characteristics allow its use inside classified environments ISO5 .
---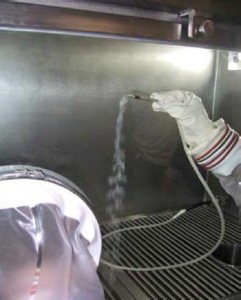 Main characteristics:
Negative / positive pressure rate settable for each environment
Complete AISI 304 or AISI 316 construction
Primary filtration stage for inlet air : prefilters efficiency G4
Terminal ULPA filtration stage for inlet air : ULPA filters efficiency U15
Primary filtration stage for exhaust air made with HEPA filters (efficiency H13) installed, inside safe change filter housing with bag in / bag out system, upstream of exhaust fan
Secondary filtration stage for exhaust air made with HEPA filters (efficiency H12 or H13) installed downstream of exhaust fan
Exhaust fan inside the unit
Automatic pressures and air flows control made with Lesatec dedicated PLC suitable for remote connection with PC
---
Accessories:
Vacuum cleaning system with connection inside each environment
Chemical inertization system of tanks, walls and work desks inside isolator
Particles continuos monitoring system
Microbiological monitoring system
HPDS Lesatec sterilization system, using dry vapours of H2O2, with continuos control of peroxide concentration
---
MV48/3 type 5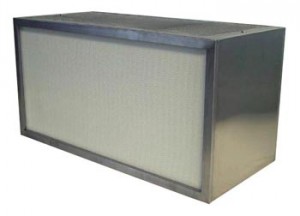 Dimensions: 1270 x 660 x 590 mm.
Weight: c.a. 100 Kg
Feed: 230v 50-60Hz
Power: 650 W
Maximum absorbed current: 2,84 A
Nominal air flow: 1200 m3/h
Medium speed unidirectional flow: 0,46 m/s
Maximum Cleanliness Class: ISO 5 (0,5 um)
Noise level at 1 meter: 61 dB(A)
---
Models:
LESATEC GN3-2 Type1
LESATEC GN5-2 Type1
LESATEC GN5-2 Type1D
---
Technical data:
Overall dimensions: 190x360xh350 mm
Tare weight: 12 Kg
Solution tank capacity: 1500 mL
Usable quantity for each load: 1200 mL
Residuo non nebulizzabile per ogni carica: 300 mL
Generate water particles diameter: >20 μm
Electrical feeding: 230V / 1F / 50Hz
Max air flow rate: 12 m3/h
Max solution temperature for correct running: 50 °C
Min. solution temperature for correct running: 0 °C
Fog generation capability:

Mod.: GN3-0: 450 mL/h
Mod.: GN5-0: 850 mL/h

Max power consumption:

Mod: GN3-01: 140 Watt
Mod: GN5-01: 200 Watt
---
DOWN FLOW BOOTH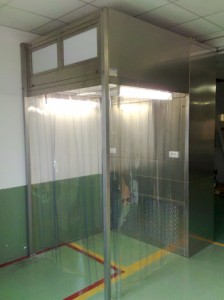 Down Flow Booth is an equipment designed and realized for powders handling, weighing and sampling operations able to:
allow the creating of an unidirectional air flow at class ISO5 (0,5 micron) following ISO14644 classification
protect operators from powders inhalation or contact
protect products from external environment contaminations
protect external environment from powders outflowing.
---
Main characteristics:
Complete AISI 304 construction
Air filtration in protected area : HEPA H14
Return air primary filtration stage: G4
Return air second stage filtration: F9 or HEPA H13 with safe change housing (Canisters) for API (Active Pharmaceutical Ingredients) handling
Protected area bordered with transparent and flexible curtains or rigid partitions
Exhaust air filtration: HEPA H14
Protected area Contamination Class: ISO 5 (ISO14644-1)
Air flow regulation and control system
Leak Test probes
Lighting system
Air cooling system on request
AIR SHOWER
---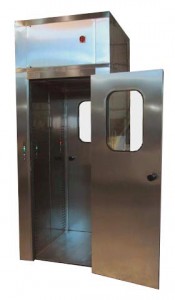 Air shower is an equipment suitable to be used inside production environments where it is necessary to lpowders or fibres transport during the passage of operators between adjacent rooms. This scope is achieved by means of the operator "air washing", during the transit inside the air shower, made with high speed shoots of HEPA filtered air.
Working principle is based on high speed air shoots capability to remove particles from clothes surfaces.
HEPA filtration of air before its diffusion inside the Air Shower make it qualified for its use inside Contamination Controlled Environments.
---
Main characteristics:
Complete AISI 304 construction
Overall standard dimensions : 1100 x 1200 x h 2750 mm
Useful standard dimensions : 800 x 1100 x h 2100 mm
Feed : 400V / 3F / 50Hz
Power : 2,5 kW
Contamination Class in "At Rest" condition : ISO 5 (ISO14644)
Lighting system
Flow management of staff fulfilled with interlocked doors and traffic lights
Cycles length settable
Emergency unlock pushbutton for doors
DOP Test probes
Different sizes available