LIXIS is a dynamic company created to fill the most demanding needs of the pharmaceutical product packaging quality control.
LIXIS is committed to providing state of the art technological solutions to their customers, paying special attention at the production continuity in order to meet deadlines, reaching the latest validation requirements.
LIXIS offers solutions for: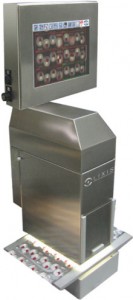 Blister filling inspection of all types of pharmaceutical products on all types of bottom foils.
Code and characters recognition and verification (OVC/OCR).
Bar code verification in blistering and cartoning machines.
Serialization, control and data management of pharmaceutical units and its containers among the production and supply chain.
Track & Trace projects
Detection of cracks, pinholes and pores on cold-formed aluminum blisters.
Detection of film splices in blistering machines.
Defective product rejection systems and blister transfer devices between blistering and cartoning machines.
Blister Control
Lixis SVC vision Systems are designed to assure quality standards are met in pharmaceutical packaging lines, through the inspection of any kind of tablets and capsules in all types of blister packs.
The inspection of production with our machine vision technology guarantees that 100% of the items are accurately packed, thus eliminating errors and reducing costs related to human control.
Code Control
Designed to assure quality standards are met in pharmaceutical packaging lines, LIXIS CodePro offers reliability and accuracy for 1D and 2D barcode inspection. It stands out for its versatility for barcode verification as well as for its specially designed friendly and easy to use software.
Following LIXIS high quality standards, CodePro equipments meets every specific need in pharmaceutical industry Pinhole Detector for Alu-Alu blisters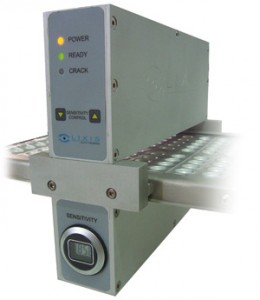 LIXIS MH systems are designed to automatically detect pinholes and pores on Alu-Alu blister packs produced during foil cold forming, which are usually invisible to human eye.
Our equipment eliminates non-airtight sealing risks due to cracks in the inspected foil, impossible to detect with other automatic systems. Therefore, an accurate control of 100% of the production is guaranteed, a rate that cannot be equalled by statistical sampling
LIXIS Track & Trace | IdentiPharma
Comprehensive serialization applications in pharmaceutical packaging lines, for units tracking and tracing, distribution control and product quality assurance.
LIXIS IdentiPharma focuses on three elemental aspects of process control: serialization, data inspection and data linking. A powerful single solution is guaranteed by combining them together into pharmaceutical packaging lines.
Serialization
Each packaging unit is provided with an unique identity generated by main server, which saves resulting production information in master database. Lixis IdentiPharma allows integration of online printing systems that apply assigned 2D codes to every unit throughout the different packaging stages.
Data Inspection:
Encoded production data, once printed, is verified with LIXIS Printing Verification System (PVS) by matching printed characters and 2D codes with unique identities stored at main database. Non-conforming units are diverted from production stream.
Information Linking:
Lixis IdentiPharma provides a complete tracking solution by combining serialization and data inspection within every stage of pharma packaging process. Database management yields to establish the parent-child relationship: the codes of smaller packaging units ("childs") are bundled the code information of subsequent aggregated units ("parents"). This information can be integrated customer ERP or MES system allowing tracing product back to its origin.