WOKU-Filtermedien was founded on January 1st 1979 and is together with its sister companies' Bad Lauchstädter Filtermedien GmbH & Co. KG (BLF) and WOKU-Baltica one of Europe's biggest ready-made clothing producer. Looking back on more than 30 years of experience, we excel in producing all kinds of filter bags, filter pockets and filter press cloth for nearly all types of dry and wet filtration systems. A number of diverse accessories complete our range of products.
WOKU-Product filter
Exhaust air filters are developed in close cooperation with our customers. Our many years of experience, the careful selection of material and professional processing produce a product in original equipment manufacturer quality. Our special qualities have proven itself over many years.
The many different dimensions and designs are customised to the various applications in accordance with the special requests of our customers from the pharmaceutical, chemical, food and beverage industries.
We also offer you our professional repair service for used filtration elements.
Stainless steel filter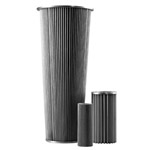 Stainless steel filters produced from a variety of bonded, highly separating layers of stainless steel wire mesh are used in a multitude of applications in the chemical, pharmaceutical and many other industries. A special sintering technology results that all wires come into contact with each other, without changing the structure of the individual mesh layers. The result is a robust porous filtration medium with previously defined properties.
Available as cylindrical filter basket, as double wall filter cartridge or as pleated cartridge, our stainless steel filters are made upon request and according to your wishes.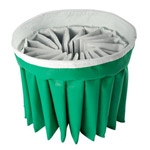 Star-Filter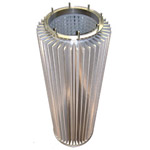 Star filters for industrial vacuum cleaners in all sizes, designs and qualities are quickly available. They are manufactured from high-quality technological needle felt with various surface finishes and special treatments.
with BIA test certificate dust class L or M
antistatic
with microporous foam coatings
with PTFE coating
We will be pleased to develop special sizes and solutions together with you. We look forward to your enquiries!
Filter pockets
We produce system-related filter pockets in different designs, dimensions and qualities in accordance with your specifications and taking the corresponding process parameters into account.
Through the selection of high class technological needle felts with different surface finishes and special treatments,our filter pockets enjoy long service lives with optimized filtration performances, low pressure drop and very good regeneration characteristics.
Examples of our manufacturing technologies/designs include:
sewn or thermal-welded longitudinal seam*
seam sealing*
sewn in foam-rubber seals
felt seals
sewn in cords
support reinforcements
2, 3 or 4 channel filter pockets with special oval snap ring
On request, we supply high-quality supporting frames, aluminium profile frames, precoating powder and other accessories, such as clamping frames, leg springs, mouth pieces, pocket supports, sliding coating for flushing nozzles on schedule with your filter pockets.
Filter press cloths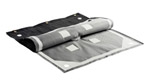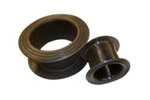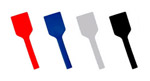 Filter press cloth made of a wide range of monofils and multifils, combination and staple fibre fabrics custom made for your process filtration, manufactured as double, overlap or hanging cloths and can be optionally equipped with:
under-cloths
edge coatings
edge and support boss reinforcement
hook and loop fastening
eyelet or welded binding holes
solid rubber necks
Furthermore, we manufacture special baling press cloths in special fabrics for the pressing of fruit, grapes, berries and vegetables. Thereby, different types of fabric have been specifically complemented to the corresponding type of fruit.
Our range also includes cake scrapers in various degrees of hardness for optimum cleaning of the filter cloths. The cake scrapers are designed so that a tool handle can be installed and attached as required.
RED = PE high density – hard and stiff, hot-water proof
BLUE = PE medium density – semi-hard, slightly flexible
WHITE = PE low density – extra-soft and flexible
BLACK = electrically conductive in various settings
OEM Original spare parts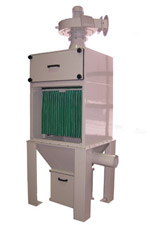 In our comprehensive range of accessories, you will find everything that you require for the operation of your filtration system. The quality of our products is approved over many years and meet the specifications set by the system manufacturers. Of course we also supply you with original spare parts for many filtration systems from renowned manufacturers, such as:
Beth Filter
Intensiv Filter
Lüscher/Standard/M¼nstermann
L¼hr Filter
DCE
Infastaub
Dantherm/DISA/BMD Garant
and many more
If you cannot find the product you require, then please ask us. We will be pleased to assist you to find the appropriate solution for your problem.